This week Apple will start pushing macOS 11 Big Sur to compatible Macs via Software Update.
If you have not heard about macOS Big Sur, it's worth watching the Apple Event from Tuesday 10th November (video below) and visiting the Apple Big Sur page to find out more.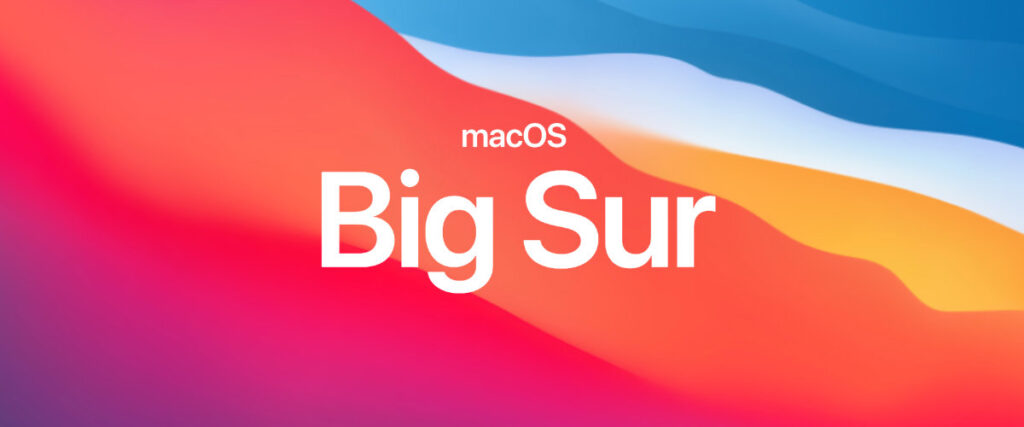 This Thursday Apple will start pushing macOS 11 Big Sur to compatible Macs via Software Update. While this is great news, I would strongly advise you don't upgrade straight away and take a moment read through the following. It'll spare you a lot of frustration and potentially stop you having to reformat your computer and re-install your previous system if things go wrong or you decide you do not like it. Don't get me wrong ~ Big Sur is wonderful and ready to go, but don't rush it!
Many experienced Mac users like to leave it a while before updating their main production Mac to a new version of macOS. This article looks at some of the issues involved, with particular reference to Big Sur. If you still want to be an early adopter, then this article gives practical advice on what you should do to prepare for the upgrade.
One of the major changes in Big Sur is its new Signed System Volume, which greatly increases the security of macOS system files. This article explains more about it, and how you can disable it when necessary. However, if you think from the outset that you might need to turn it off, you should ask yourself whether Big Sur is a good choice at all!
macOS Big Sur (version 11.0) is the seventeenth major release of macOS, Apple's operating system for Macintosh computers. The successor to macOS Catalina (version 10.15), it was announced at Apple's Worldwide Developers Conference (WWDC) on 22nd June 2020 and named after the coastal region of Big Sur in the Central Coast of California.
macOS Big Sur brings a major user interface redesign. It is also the first macOS version to support Macs with ARM-based processors. To mark the transition, the operating system's major version number has been incremented from 10 to 11, for the first time since the release of the Mac OS X Public Beta in 2000.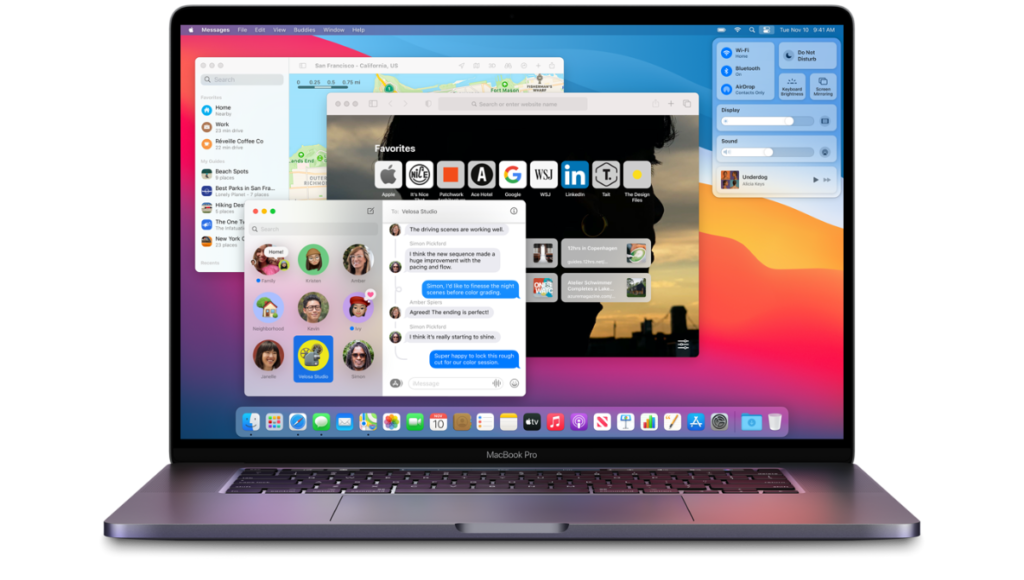 Some Changes
Design: macOS Big Sur refreshes the design of the user interface, described by Apple as the biggest change since the introduction of Mac OS X. Its changes include translucency in various places and a new colour palette. All standard apps, as well as the Dock and the Menu Bar, are redesigned and streamlined, and their icons now have rounded-square shapes like iOS and iPadOS apps.
The new OS also brings further integration with Apple's SF Symbols, enabling easier use by third-party developers as UI elements for their applications through AppKit, SwiftUI, and Catalyst, which makes it possible to unify third party applications with the existing Apple-made design language.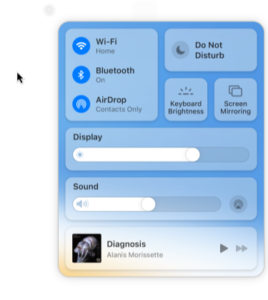 Interface
Control Center: An interface with quick toggles for Wi-Fi, Bluetooth, screen brightness and system volume has been added to the menu bar. This interface is functionally and visually similar to Control Center on iOS and iPadOS.
Notification Center: The Notification Center is redesigned, featuring interactive notifications and a transparent user interface. Notification Center also features a new widget system similar to that in iOS 14, displaying more information with more customisation than previously available.
System
Support for Apple-designed processors
macOS Big Sur is the first release of macOS for Macs powered by Apple-designed ARM64-based processors, a key part of the transition from Intel x86-64-based processors. The chip mentioned in demo videos, and used in the Developer Transition Kit (and the 2020 iPad Pro), is the A12Z Bionic. On November 10, 2020, Apple announced the first Mac Apple Silicon chip, the Apple M1, in the Late-2020 Mac Mini, Macbook Air, and Macbook Pro. Apple has said that it will support Intel Macs "for years to come", and most software that has not been ported to run on ARM Macs can use Rosetta 2, an update of a compatibility mechanism developed for the PowerPC-to-Intel x86 transition.
Support for iOS and iPadOS applications
On Macs based on Apple Silicon, macOS Big Sur will run iOS and iPadOS applications natively and without any modifications needed from developers. Some of these Macs that will be able to do this are the 2020 MacBook Air M1, the 2020 Mac Mini, and the late 2020 MacBook Pro M1.
Signed system volume: The system volume is cryptographically signed to prevent tampering. This includes adding an SHA-256 hash for every file on the system volume.
Software updates can begin in the background before a restart, thus requiring less downtime to complete. Because system files are cryptographically signed, the update software can rely on them being in precise locations, thus permitting them to be effectively updated in place.
Spotlight, the file system indexing-and-search mechanism introduced in Mac OS X 10.4 Tiger, is faster and the interface has been refined. Spotlight is now the default search mechanism in Safari, Pages, and Keynote.
Time Machine, the backup mechanism introduced in Mac OS X 10.5 Leopard, can now back up to APFS-formatted drives, which Apple says enables faster, more compact, and more reliable backups. (In prior versions of macOS, Time Machine could only backup to HFS+-formatted drives). Apple's macOS 11 beta release notes document says, "New local and network Time Machine backup destinations are formatted as APFS by default. Time Machine will continue backing up to existing HFS backup volumes."
Encryption: macOS Big Sur supports encryption at the file level. The prior version of macOS supported encryption only at the level of entire volumes. As of June 2020, this capability is known to be compatible with Macs based on Apple Silicon; it is unclear whether it is compatible with Intel-based Macs.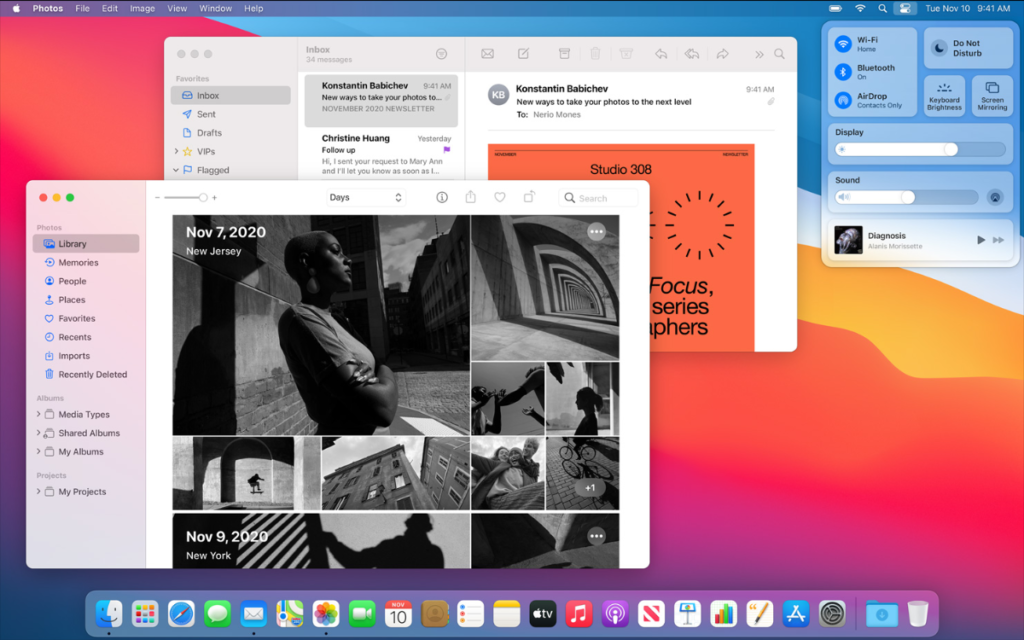 Other changes
Bilingual dictionaries in French–German, Indonesian–English, Japanese–Simplified Chinese and Polish–English
Better predictive input for Chinese and Japanese users
New fonts for Indian users
Podcasts "Listen Now" feature
FaceTime sign language prominence
macOS startup sound is enabled by default (it had been disabled by default in recent releases of macOS), and an option in System Preference was added to enable or disable this functionality
System requirements
Unlike macOS Catalina, which supported every standard configuration Mac that Mojave supported, Big Sur drops support for various Macs released in 2012 and 2013.
Big Sur runs on the following Macs:
MacBook: Early 2015 or newer
MacBook Air: Mid 2013 or newer
MacBook Pro: Late 2013 or newer
Mac Mini: Late 2014 or newer
iMac: Mid 2014 or newer
iMac Pro
Mac Pro: Late 2013 or newer
New MacBook Air, MacBook Pro and Mac mini with Mac Apple Silicon chip M1
---
Backup, Backup Backup!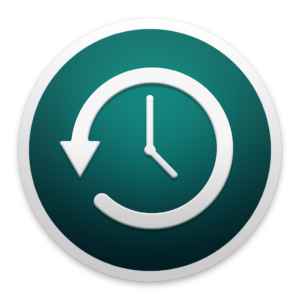 With any software updates it's important to make sure you have a current Backup. I would suggest you check Time Machine has backed up in the last hour before running any updates. If you don't leave your external backup drive connected, then make sure it's plugged in, turned on or connected via WiFi and tell Time Machine to "Back Up Now" from the menu icon at the top of the screen.

If you use another backup application, like SuperDuper, make sure it has recently run or manually run the backup before running any updates.
Please note: SuperDupe is currently NOT compatible with Big Sur! See the developers website for details – Shirt Pocket Blog "Big Sur".
I will be testing macOS 11 Big Sur over the next few days and will write my thoughts soon. If you would like any help or advice with Backing up your Mac, or general Training and Support, please contact me.